Our Time Trial events are held over standard courses. We also put on one-offs such as hill climbs, and we hold regular Chain Gang sessions. Click on the tabs below for details of the routes
Course record 21m 5s.set by Sean Townsend  of Gloucester Ctiy CC on July 11th, 2018
CORSE / STAUNTON 10 MILE COURSE
10 Mile circuit consisting of 3 laps.
Racers start at the intersection between A417 & Barn Ln and make one large full lap Anti-Clockwise.
After the first rotation has been made, turn left into Barn Ln and from this point – complete 2 more full rotations.
Start at bus stop lay-by just before the speed de-restriction sign leaving Maisemore (grid reference 811212). Continue to Staunton, turning left at the roundabout. Continue on the A417 across the M50 junction and on to the first roundabout on the edge of Ledbury. Turn here (13.5 miles). Retrace the route, turning right at the roundabout in Staunton (care). Finish beyond the old school buildings beyond Hartpury at the pull-in by a gate into the woods (grid reference 798234).
Course Record  52:40 set by David Janes on 21st April, 2018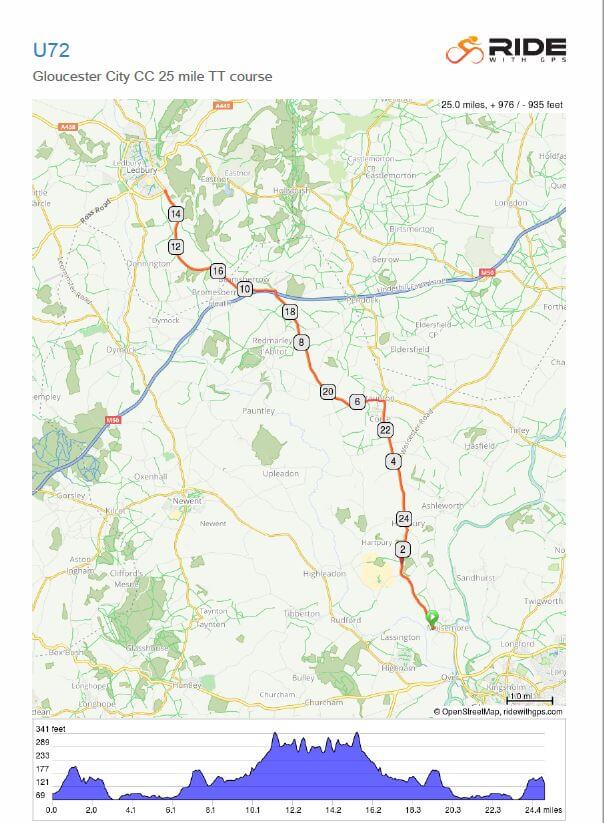 Course record of 42m 53s set by Sean Townsend of VC Equipe on May 2nd 2018 beating the previous record of 43m 46s for two laps (18 miles) set by Jim McLoughlin of Glloucester City CC on May14th 2014
PENDOCK 9 MILE CIRCUIT
Circuit used for evening time trials. Start is on Malvern Road, just north of the Swan Inn roundabout. Each lap is 9 miles, ridden anticlockwise, so 18 mile TT's require two laps. It can be viewed and downloaded here: https://ridewithgps.com/routes/26727767
Course record set 14m 01s by Sean Townsend and matched by Jim McLoughlin, both of Gloucester City CC, on July 3rd 2013 and April 2nd 2014
HARDWICKE 7 MILE TRACK
Starting and finishing at the same point alongside the M5, racers must follow the road along until the roundabout just before the River Frome. From here they must circle the roundabout and continue along the same path they came from.
3 CITIES RACE DETAILS AND ROUTE
The course route is down to the rider, but they must start and finish at The Dog (Toby Inn) at Over,
you must cross Westgate Bridge, Gloucester,
you must cross St John's Bridge, Worcester,
you must also pass the Shire Hall in Hereford.
The accepted fastest route is the A38 to Worcester, A4103 to Hereford, and A438 / A4172 / B4215 to Gloucester.