Club Clothing Styles and Availability
Our sponsor at Yellow / My Team Giordana offers us Club clothing at prices not available elsewhere. Every garment has a firm price at the time of order. We add 10% (5% for Speed Suits, 0% for Women's Fit) which goes to fund the Club's activities, events and ambitions (e.g. Annual Dinner, Races, written off stock). The margin is not applied for sales to those who put in extra time and effort on behalf of the Club or our affiliated organisations – notably, Committee Members, BC Accredited Marshals and CTTA Timekeepers. Ask for details, or come to the AGM and volunteer. From 2020, most items can be ordered in batches of 5 and Giordana aim to satisfy orders within 6 – 8 weeks. This means that it will now be considerably easier to get non-Key Items.
Click on this link to Check what's in stock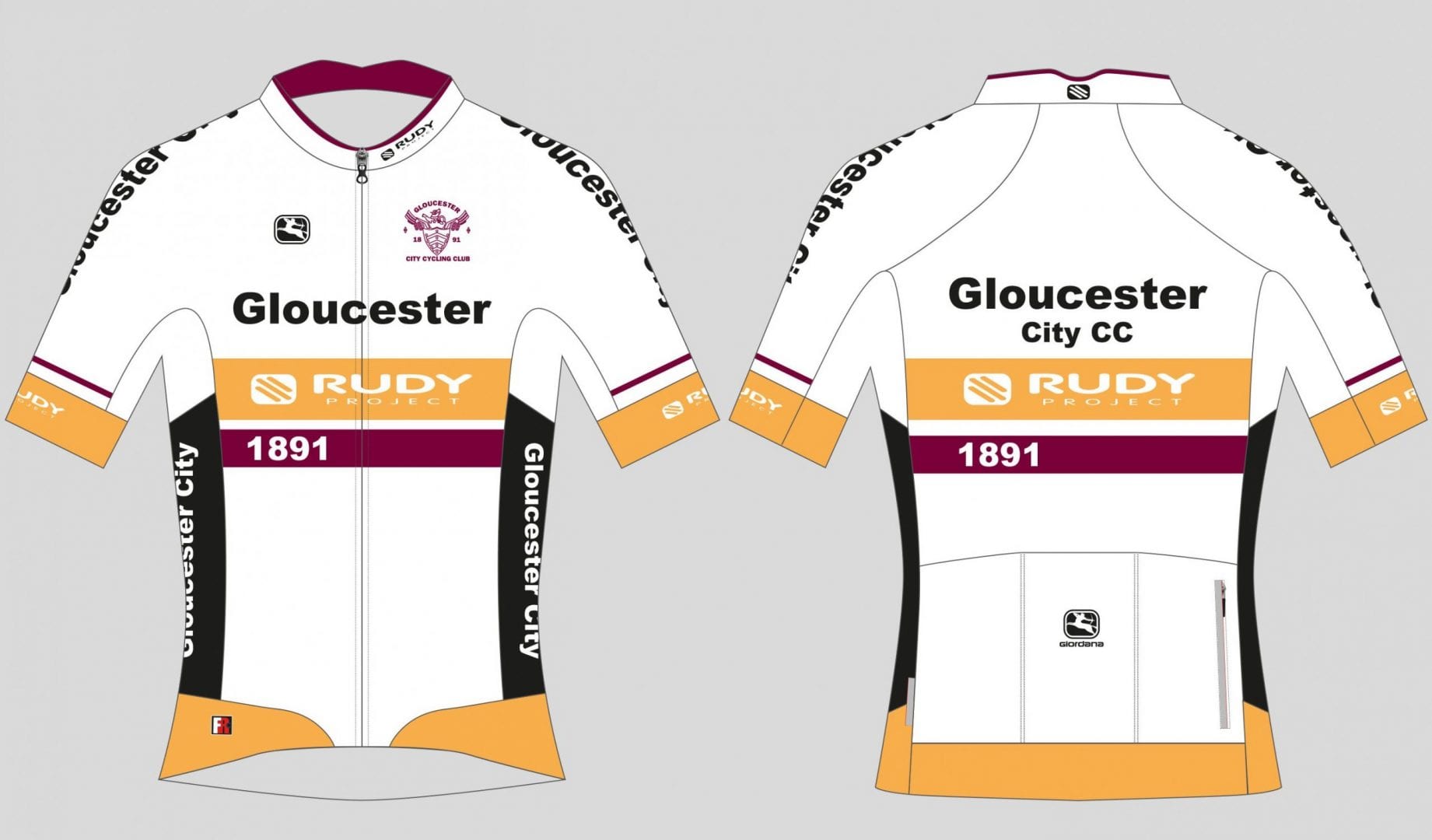 We have three designs, usually called White, Black and Gold. We have two patterns, one which is tightly tailored for racing and one which is more comfortably fitting for Club or training rides. The FRC range only comes in the racing fit, and only in the BC-approved White or Black. In Club fit, we have some current stock in Vero, in all three designs; we also have Club kit in the Tenax range which is higher quality than Vero and a little more expensive; and finally, from 2020 we will have Club kit in Vero Pro or Winter ranges because Tenax has been withhdrawn. A change for 2020 is that the script has changed to Arial Black.
Key items are those which everyone will probably want, depending on their type of riding. We will try to keep in stock popular sizes of Key Items. They are all in the White pattern and are as follows:
FRC Jersey Short Sleeve, Bib Shorts and Speed Suit Short Sleeve.

Vero/Tenax/Vero Pro Jersey Short Sleeve, Jersey Long Sleeve, Bib Shorts and Thermal Bib Tights

From 2020, Bib Tights and Jersey Long Sleeve will be in the Winter range.
Other Items and colours are non-Key Items. We will only get in a batch when we have orders for 60% of the batch minimum on the WISH LIST. For example to buy a batch of Black Jerseys, we need 3 orders; if you want a Gilet, put your name down and persuade 5 others that they want one too! Check out the non-Key items in stock, if something is in your size it could be a bargain.
Contact Ken Sheldon – with a heading of your name and the kit you want – or 01452 714034 to buy anything in stock OR on order, or just to ask a question regarding Club clothing. Please don't use Facebook, your order is liable to lose itself.