We set off at 8.02am sharp, thus missing two other slightly late arrivals. The route was simple, taking advantage of the light traffic at this hour: A40 all the way to the Walford valley road, taking in the gentle climbs of May Hill and Box Bush to cross into Herefordshire. Tracking west and south into a rising headwind the riders enjoyed good sunshine and warm, yes that's right, warm conditions. Plenty of water on the roadsides after the previous day's rain, in some cases across the road – these don't count as fords, however, but demanded caution nevertheless. The long climb to English Bicknor and Berry Hill split the group a little. An exciting descent to Redbrook followed, then a lovely run down the Wye valley to cross into Wales. Coffee was taken at the Old Station, which proved most welcoming. Here we met up with the late starting group and the two slightly late comers. So, it all turned out well.
Six met in King's Square for the later start, a merger of the C ride and what for calrity is no w known as the sports ride, to form one group to Tintern. After the foul weather on Saturday (despite which one member rode a 300km Audax to Clee Hill and back), we were all rather over-dressed for what turned out to be the warmest ride of the year so far. Since one of the goup planned to turn back at Littledean, it fell to him to take the stiff headwind along the A40, leaving the rest of us fairly fresh for the climbs through the Forest. A puncture before Northwood Green split the group, which remained split until coffee where all the groups reunited.
Once refreshed most riders took the recently opened Wye Valley Greenway trail through the kilometre long Tidenham Tunnel, which was quite atmospheric.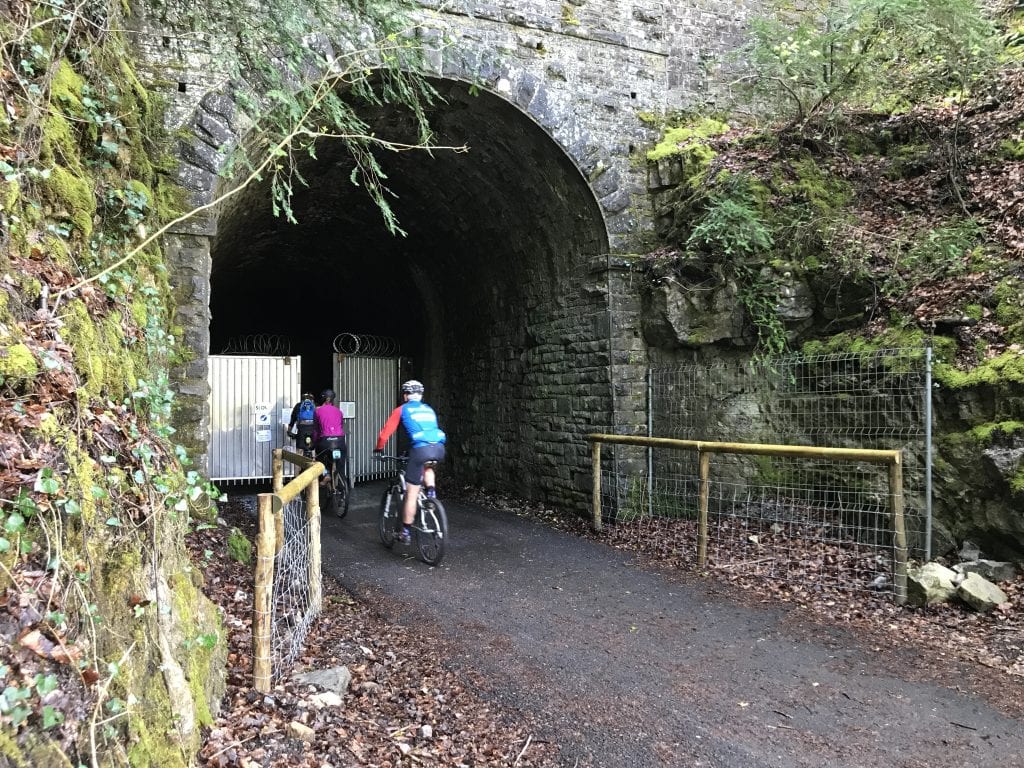 The approach cycle-way was roughly surfaced and surprisingly busy, but the tunnel itself was paved and reasonably lit. All avoided the various other users to emerge into the sunshine. A complex route into Chepstow and the hill out, or around with local knowledge, to regroup at the bridge where the crossing of the Wye / Severn was made challenging by a strong SSW wind.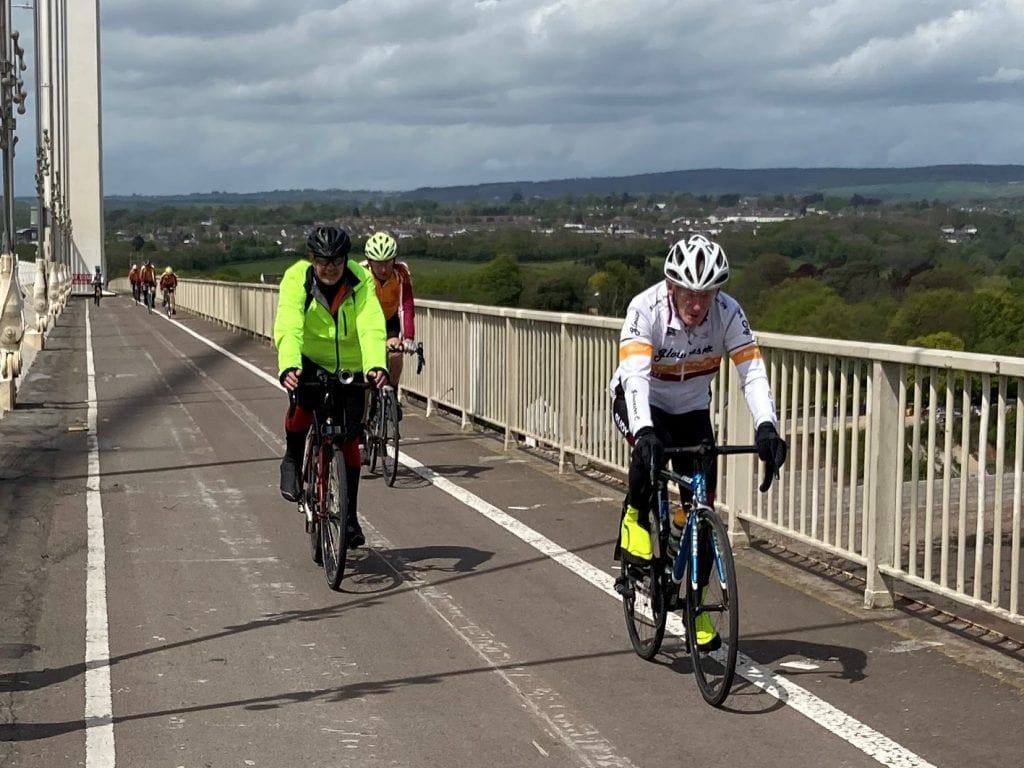 Once across, the direction north made for splendidly easy riding, all the way to Ham and the Salutation Inn. We arrived at 1.45pm to find it closed. On closer inspection, Sunday opening was not until 2pm – so we established ourselves and awaited the mandatory table service that is the present order of the day. All turned out well, again, with excellent beers being provided. Those unwillingly to wait instead took afternoon tea in Berkeley instead. A speedy route home took in Slimbridge and the A38 – to make the most of the strong tailwind home. Some 84 miles all told. A grand day out!