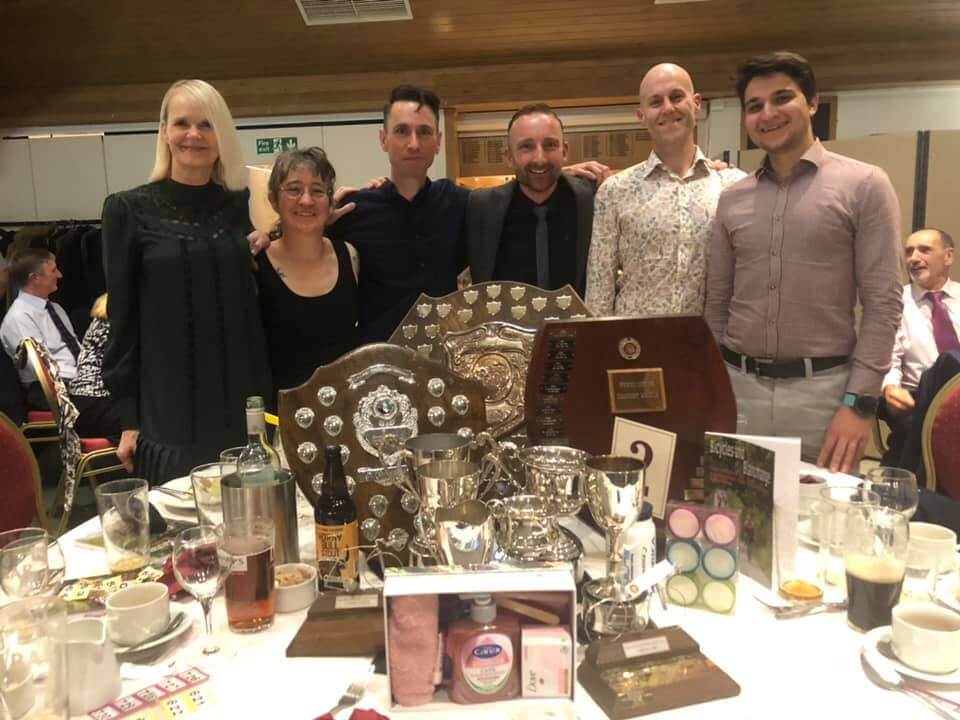 The Club's 128th Annual Prizegiving and Dinner was held at Brickhampton. Over sixty members and guests were graced with the presence of Lady Carolyn Elwas, who had prepared for the event by reading Bicycles and Blancmange. After a hearty three course meal Adrian Pearce entertained us with a slide show that attempted to answer the five questions on every cyclists' mind. Eating on the bike, even on a turbo trainer, was convincingly shown to limit the range of culinary options available with the disadvantages of crisps and soup being particularly well argued.
Adrian introduced Lady Carolyn who spoke to us about snowdrops. Although cycling is considered a slow means of transport she argued that we pass by too fast to properly appreciate the roadside flora. Perhaps now that we know snowdrops can fetch over a thousand pounds on eBay there will be more interest!  She presented the many prizes and took a genuine interest in their origin before drawing the first winning raffle ticket. There were many prizes, though fewer winners, some of whom seemed to have drawn most of the lucky numbers – the President had five (!) winning tickets, though he passed on the chance of taking five prizes. The evening finished as it usualy does with conversation and congratulations before we dispersed to our homes. The Dinner Secretary had done us proud again.
The day after came too soon, and nine o'clock seemed early for the start. Nonetheless a good number of club members showed up at the Square, unlike the sun, which was to stay hidden behind mist and thick clouds all day. A B category ride set off through some unfamiliar city roads. Was the ride leader perhaps hoping that the previous week's heavy rain had created an impromptu ford on Tredworth Road? Reservoir Road was, despite its name, dry and took the group toward the hills. Speculation was rife as to the route to be taken, especially as the leader was on a fixed wheel cycle. Those afraid of missing out on climbing went straight on and up to Whiteshill before tackling Selsey Hill and finally, as if that were not enough, Stoat's Hill. Their reward was to arrive late at the cafe and find themsleves last to be served.
Those who hoped he had chosen the low road at Five Mile House in Brookthorpe were disappointed – we took the little used Styles Lane to tackle Horsepools and Scottsquar Hills. After regrouping at the summit we passed through Randwick Woods, where some welcome new planting was evident, and Randwick itself. Alas, those with freewheels took off down the hill and away from the intended route. A diversion over the level crossing at Ebley was needed to get back on track. A final twist before taking a familiar route through the Stanleys, Frocester, and Coaley was a turn into Ryeford Road North. Were we to take the muddy and unsurfaced tow path? No, we were not, and sighs of relief abounded. Arriving a little ahead of plan, and aware that the damp air of the Severn Valley had chilled us all, we took the opportuniy of a final sting in the tail, climbing to Cam Peak before plunging into Dursley to dine at The Bank.
Afterwards a straightforward route was followed to Haresfield's Beacon Inn, avoiding mud and flood west of the Bristol road. Most stopped there for lunch but the ride leader pressed on to undertake what has become a regular progress check on the path being constructed through Hunts Grove from Harescombe Lane. It is a beautiful path, the golden colour of its stone resembling the yellow brick road, but is as yet closed at both ends. We look forward to its eventual opening as a way to avoid the Cross Keys junction.