After a wet Saturday, Sunday dawned drizzly and grey.  The Vice Captain stood in as an impromptu ride leader and proposed a rather ambitious route to Coleford.  The large number of wet leaves were predicted to be a problem, but caution was observed, and no incidents were noted. Fortunately the weather improved and we were able to enjoy autumnal colours in the Forest of Dean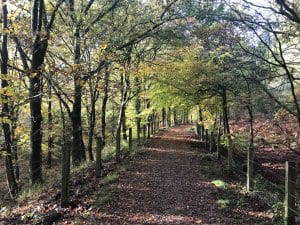 One rider had pre-declared that he was only riding the first part of the ride, and proceeded to push the pace for the first hour, which started the grumblings from the sprinter's omnibus.  These rose to a crescendo as we headed to the ford between Oxenhall and Gorsley, with anoher rider observing that he had come off in that ford before.  However, both that ford and a flood near Pontshill were negotiated without incident.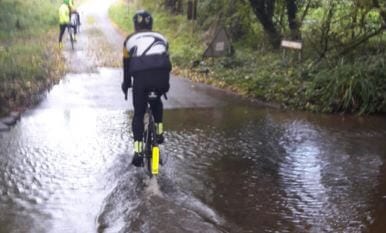 On reaching Howle Hill, the mutiny achieved critical mass, and the ride leader was dismissed, with instructions to go via English Bicknor.  Coleford was reached rather late, where we met a rider who had been dropped in Highnam and travelled via Parkend.  Kaplan's made us very welcome as always.
Most riders retruned via Parken and Flaxley, with one choosing the bridge at Aust and another the fire roads and forest tracks to Nailbridge and Stenders, then Mitchedean and Huntley.