Four set off on the B ride to Hopewell Colliery, enjoying the renewed sociability of the rule of six. As they left King's Square on a bright and cold morning, the worries were about ice. We lost one rider with a pre-existing injury at Aston Ingham then, after crossing the A40 at Lea, the brightness disappeared to be replaced with damp conditions. This left us rather surprised that one particular rider was still with us, as he has a reputation of pluviophobia.
On the English Bicknor climb, we separated, one rider leaving to explore the bike trails that led, eventually, to the the forestry commission cafe at Bracelands. The other two enjoyed coffee and cake at Hopewell Colliery. After coffee they carried on home, the adventurer stayed on the trails, including a sneaky taste of the Verderers (the only busy place in the whole ride), till the top of Stenders then headed back through Flaxley as the weather deteriorated further, A fun ride and a jo to have company on the road again.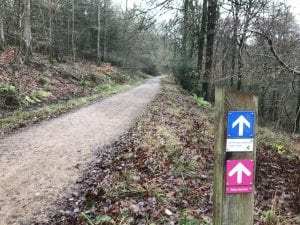 Two groups of four A category riders set off into darkening conditions and air-moisture became apparent after 30 minutes. Two headed home so a perfect 6 formed the group that made it to Ross and the Engine shed for good coffee and cakes. This was after an adventurous route by Alastair around The Scar / 3 Choirs vineyards and Gorsley: very dirty lanes they were too.
Conditions appeared to have improved post break as we made our way to the Walford valley – but soon deteriorated back to damp and drizzle. Three more went directly home; the last three took in the climb of Dancing Green to see the deer, then over to Drybrook – not dry at all. Diverting to Wigpool Common and down to Mitcheldean with great care, and so to Blaisdon and refreshments at the Red Hart – meeting all current regulations. The big tent ensured we stayed dry as the rain fell. The route back home was via some flooded lanes to Birdwood, so a fast direct route to the City was the best option to complete some 55 miles round trip. A classic wet and cold December ride!