As a result of the updated government guidelines, each ride will strictly enforce the "Rule of Six". No group of more than six will be tolerated. Each ride will have a designated meeting point in King's Square and once six riders have assembled, that ride will be full, and should depart. There will be no communal announcements.
Distinct meet points will be set as follows and as marked on the map below:
Sports ride(s) will meet outside Costa Coffee (A)
The "fast B" or C group will meet outside Iceland (B1)
The second B will meet outside the Post-Office (B2)
If there is a third B ride, that will meet on the SE corner of Debenhams (B3)
The A or AA ride will meet in Debenhams doorway. (A)
This Sunday,
Nigel will organise the sports riders into groups outside Costa Coffee (S)
Colin will lead the B ride to Tetbury, which will congregate at the corner of Debenhams (B3)
Ian will lead a faster C ride to Tintern and the Severn Bridge, meeting outside Iceland (B1)
Adrian will lead a long B/C ride to Tintern and the Severn Bridge, congregating outside the post office (B2)
Toby will lead the AA ride to Stroud, and will congregate around the Debenhams doorway. (A)
Please head straight for the relevant meeting point.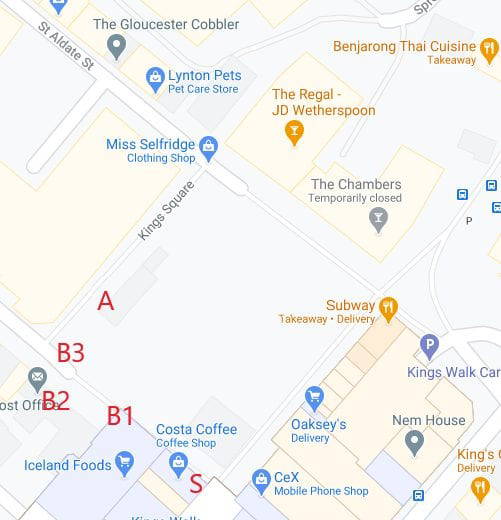 The ride leader will be asked to record who is in his/her group and forward that to the General Secretary for record keeping. A photograph or a list of names will be acceptable. We anticipate that cafés will require every customer to sign in, and may require masks to be worn.
There will be no swapping between groups. The groups must remain distinct at stops, including coffee and re-grouping at the top of hills.
These small groups increase our need for volunteer ride leaders, so we ask that as many members as possible come prepared to lead the ride. Routes for Sports and some B rides are generally published in advance, and can be easily downloaded into GPS devices, though of course the Ride Leader may choose his own route. Instructions to download routes are at this link, and the Vice-Captain has offered further assistance, should it be needed.
Regrettably, if groups of six cannot be formed, the ride leader will have to cancel the ride. Sorry to be so strict, but it is the law.
We aim to make cycling as enjoyable as possible, while staying within the law during this difficult time. Please assist us in this by adhering to these guidelines and requests from the ride leaders. Always remember to take a mask with you, and ride safely.
Thank you for your cooperation.